Bully Ray's Houndoom

'

Name:

Houndoom

Level:

84

Type:

Dark/Fire

Species:

Dark Pokemon

Height:

4′7″

Weight:

77.2 lbs

Abilities:

Early Bird

Flash Fire

Unnerve (Hidden Ability)

Attacks:

Inferno

Crunch

Fire Fang

Foul Play

Snarl

Flamethrower

Iron Tail
Houndoom was the first Pokemon Bully Ray received as a Houndour. Since the first day of being with Bully, Houndoom has been at his side all the way. He even has the same personality as Bully; he's a bully of course. Houndoom bullies any Pokemon he can just like his trainer. Although, there is one slight problem. Despite being beside Bully all the time, being his highest level Pokemon, and being his main Pokemon... Houndoom isn't exactly Bully's toughest Pokemon. But he is seen more often than Bully's real strongest Pokemon, which is his Steelix.
Mega Evolution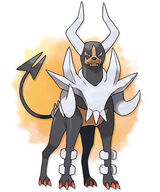 Houndoom debuted with Mega Houndoom at No Surrender 2013 while in a battle with Mr. Anderson's Exploud. Close to the end of the battle when it looked like Exploud had taken down Houndoom, Bully Ray took out a Mega Ring and Houndoom Mega evolved. After the evolution, Mega Houndoom was able to tackle Exploud into a table to win the battle.
Rivalries
With being the big heel in the company, Houndoom has a lot of enemies.
AJ Styles's Charizard
Austin Aries's Serperior
Mr. Anderson's Exploud
Sting's Armaldo
Magnus's Feraligatr
Chris Sabin's Garchomp (sort of now)
Allies
All of the Aces and Eights Pokemon
Trivia
Like his trainer being the leader of the Aces and Eights, Houndoom is the leader of the Aces and Eights Pokemon.
During Bully Ray's storyline with Brooke Hogan, Houndoom was in a relationship too. He was in a relationship with Brooke's Glaceon.
Houndoom is now currently in a relationship with Brooke Tessmacher's Ninetails.