Captain Melonhead

Shed a tear 'cause Captain Melonhead is here!

Height:

5'5

Weight:

180 lbs

Age:

14

Born in:

Parts Unknown

Lives in:

Parts Unknown

Wrestling influences:

Chris Benoit

AJ Styles

Christopher Daniels

Evan Bourne

Kofi Kingston

The Motor City Machine Guns
Captain Melonhead
Captain Melonhead is Jonny 2x4's secret superhero alter ego. His name comes from the fact that Eddy often calls Jonny "Melonhead" as a nickname, most likely because Jonny's head is the shape of a watermelon. Jonny seems to be slightly more competent and self-reliant as Captain Melonhead. He along with his sidekick Splinter the Wonderwood, keeps the other kids safe from harm. Despite having great strengths, Melonhead, like all heroes, has his weaknesses. He is unwilling to let an ally get hurt.
Captain Melonhead has two catchphrases, the first is "It's Melon Time!" and it's used when he makes a heroic charge, the second is "Shed a tear 'cause Captain Melonhead is here!", used when Melonhead arrives at the scene of the action.
Wrestling Career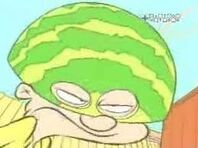 Captain Melonhead didn't become known until he suddenly appeared one night, and told everyone he would save PCUW from The Destiny Empire and the other heels. For the past months, he did just that (or tried to). He competed in many matches. On the show after Halloween Havok, Melonhead saved the Eds from an attack from The Destiny Empire. A week later, Destiny Empire member Johnny Thunder challenged Melonhead to a match at Survival of the Fittest, he accepted. At Survival of the Fittest, Melonhead won by DQ after Wolf Lancaster interfered. Thunder and Wolf beated down on him before Van Culmer and Corey Dominic came out for the save. Captain Melonhead hasn't been in the ring since, making people believe he got injured.
In the beginning of March, Captain Melonhead made his return in a #1 contender's match for the PCUW X Division title against Don Hector and won. At Breaking Point, he failed to win the title. On May Week 3, Melonhead got into a brawl with hardcore champion Guntep Min backstage. At Final Countdown, he faced Guntep for the hardcore title and lost. At New Day, Melonhead competed in the X Division championship Ultimate X match along with Edd, Aries Austin, Willy Blake, Johnny Smith, and Johnny Thunder. He lost when Edd got the win.
Captain Melonhead's wrestling influences include Chris Benoit, AJ Styles, Christopher Daniels, Evan Bourne, Kofi Kingston, and The Motor City Machine Guns.
Ring Names/Nicknames
Finishers
Entrance Music
Ad blocker interference detected!
Wikia is a free-to-use site that makes money from advertising. We have a modified experience for viewers using ad blockers

Wikia is not accessible if you've made further modifications. Remove the custom ad blocker rule(s) and the page will load as expected.