Chris's Garchomp

'

Name:

Garchomp

Level:

83

Type:

Dragon/Ground

Species:

Mach Pokemon

Height:

6′3″

Weight:

209.4 lbs

Abilities:

Sand Veil

Rough Skin (Hidden Ability)

Attacks:

Dragon Rush

Crunch

Dragon Claw

Dig

Dragon Tail

Bulldoze

Hyper Beam
Garchomp was the first Pokemon Chris Sabin received as a Gible. Garchomp was always Chris's best Pokemon on the team. He fought hard, he never gave up, and showed pride in battles. He and Chris always got along well and Chris was proud of him after every battle, whether it was a win or a loss. Garchomp's personality used to be caring, aware of others, and kind, but since Chris lost the World title to Bully Ray, his personality has been full of himself, caring only for himself, and doing whatever it takes to win... even if it means cheating.
Mega Evolution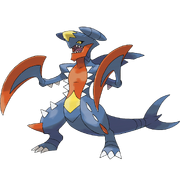 Garchomp made his Mega Evolution debut at Bound For Glory 2013. During the Pokemon Ultimate X battle when Manik's Crobat looked like he was about to win, Chris took out his recently received Mega Ring and Garchomp Mega Evolved. From then, he took down Crobat as well as the other Pokemon in the battle and won.
Rivalries
Manik's Crobat
Bully Ray's Houndoom (not sure anymore)
Allies
Garchomp has no known allies at the moment.
Trivia
Garchomp is currently in a relationship with Velvet Sky's Blaziken.
Chris Sabin's former MCMG partner Alex Shelley has a Garchomp as well. Those two were best friends.
Ad blocker interference detected!
Wikia is a free-to-use site that makes money from advertising. We have a modified experience for viewers using ad blockers

Wikia is not accessible if you've made further modifications. Remove the custom ad blocker rule(s) and the page will load as expected.