Edward Horace Alba

The Lovable Oaf Ed

Height:

5'9

Weight:

220 lbs

Age:

14

Born in:

Peach Creek

Lives in:

Peach Creek

Wrestling influences:

Sting

Triple H

The Undertaker

Kane

Stone Cold Steve Austin

The Rock

Tommy Dreamer

Jeff Hardy

Matt Morgan

James Storm

Robert Roode
Ed
Ed is the silly, funny one of the three Eds. He loves monster movies, buttered toast, gravy, and comic books. He cares for his sister Sarah, but she can drive him crazy at times. A very loyal person, doing almost anything for his friends and family, no matter how much they abuse him or misuse his obedience, and he's always ready to please.
Wrestling Career
Ed is one of the three main creators of PCUW, with the other two being Eddy and Edd. He is considered the biggest star in the company. On the debut episode of PCUW, he won the World Heavyweight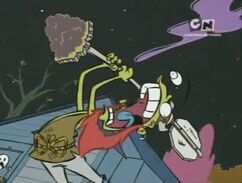 championship after defeating Rolf for it. Since then, he has been undefeated, therefore setting two records for PCUW: The longest undefeated streak and the longest World title reign. He is a member of The Erupting Eds, who are currently in a fued with rival stable, The Destiny Empire.
Lately he's been defending the World title as much as he can. But at Breaking Point, both of Ed's streaks came to an end after Kevin defeated him for the World title when Asheel Din came out and knocked Ed out with a baseball bat. At Final Countdow two months later, he lost against Eddy by submission in the final New Day series match.
For Independence Day, Ed is scheduled to team up with Asheel Din to go against the Perfect Wolf Pack and Van Culmer and Corey Dominic for the tag team titles. They were close to winning the titles, but failed to do so. On August Week 1 after a defeat by Blackout, Ed broke down in the ring after Asheel whispered something in his ear; later to be revealed that Asheel was leaving for PCUW's rival company TCW, which the Eds also are apart of.
Ed's wrestling influences include Triple H, The Undertaker, Kane, Stone Cold Steve Austin, The Rock, Tommy Dreamer, Jeff Hardy, Matt Morgan, James Storm, Robert Roode, and his most favorite, Sting.
Family
Siblings: Sarah (Sister)
Ring Names/Nicknames
Finishers
Lump Drop (Scorpion Death Drop)
Scorpion Death Lock
Tag Teams/Stables
Title Reigns
1 Time PCUW World Heavyweight Champion
Entrance Music
Slay Me by Dale Oliver (Sting's Impact theme)
Fortune 4 by Dale Oliver (Fortune's Impact theme; The Erupting Eds theme)
Ad blocker interference detected!
Wikia is a free-to-use site that makes money from advertising. We have a modified experience for viewers using ad blockers

Wikia is not accessible if you've made further modifications. Remove the custom ad blocker rule(s) and the page will load as expected.