Eddward Marion Duling

Edd, The Smart Ed

Height:

5'5

Weight:

190 lbs

Age:

14

Born in:

Somewhere else besides Peach Creek

Lives in:

Peach Creek

Wrestling influences:

AJ Styles

Evan Bourne

Shawn Micheals

Motor City Machine Guns

Kazarian

Jeff Hardy

Brian Kendrick
Edd
Edd (nicknamed Double D) is mostly a young inventor, hard working, and a neat freak. He is the smartest of the two other Eds. He always wears a sock-like black ski hat (even in the ring), no one knows why.
Edd is the most liked out of the Eds. He considers doing the right thing at a bad time. Sometimes, he's often ignored by Eddy, but is proud to be apart of a team with him.
Wrestling Career
Edd is one of the three main creators of PCUW, with the other two being Ed and Eddy. Despite having a hatred for sports due to a past dodgeball incident, he decided to give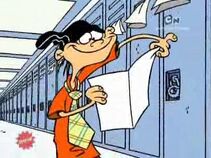 wrestling a try. And he is doing pretty good. At the Summerfest pay-per-view in August, he competed in the company's first ever Ultimate X match, which he won and became X Division champion for the first time, defeated original champion Asheel Din. But the week before the September pay-per-view, Edd lost the title to Kevin. He was able to gain the title back the week after the pay-per-view with help from GM Zack Watkins. At Halloween Havok a few weeks later, he lost the title again to Jonny 2x4. He is a member of The Erupting Eds, who are currently in a fued with rival stable, The Destiny Empire.
At St. Valentine's Day Massacre, Edd faced Aries Austin for the X Division title, but failed to win it.
At New Day, Edd competed in an Ultimate X match along with Willy Blake, Aries Austin, Johnny Smith, Johnny Thunder, and Captain Melonhead for the X Division title. Edd ended up becoming the new PCUW X Division champion. At the Animated-PCUW Supershow, Edd defeated Davis Motomiya which caused the Toon Cruiserweight title to be unified.
Edd's wrestling influences include AJ Styles, Evan Bourne, Shawn Micheals, the Motor City Machine Guns, Kazarian, Jeff Hardy, and Brian Kendrick.
Ring Names/Nicknames
Finishers
Shining Wizard
Daredevil D (Bridging Wrist Lock Electric Chair Drop)
Tag Teams/Stables
Title Reigns
3 Time PCUW X Division Champion
Entrance Music
Me Against the World by Simple Plan
Fortune 4 by Dale Oliver (Fortune's Impact theme; The Erupting Eds theme)