James Nate Clark

Jimmy, the typical accident prone boy.

Height:

4'7

Weight:

150 lbs

Age:

10

Born in:

Peach Creek

Lives in:

Peach Creek

Wrestling influences:

John Cena

Santino Marella

CM Punk

Robbie E

Austin Aries
Jimmy
Jimmy is an insecure child, and tends to cry a lot. He wishes to become famous, and is most often seen spending his time with Sarah. Jimmy is accident-prone, usually sporting many bandages, and is the weakest kid in Peach Creek. Although Jimmy has a cowardly and delicate personality, he truly wishes to be strong and muscular. He can be crafty when motivated. Jimmy has shown how deeply attached he is to Sarah when someone tries to take her away from him. Jimmy also shows excellent cooking skills.
Wrestling Career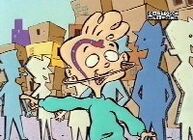 No one knows for sure why Jimmy got into wrestling since he's accident prone. Maybe because his friend Sarah got into it and he does whatever she does. He is actually one of the three wrestlers in the company to be excepted below the minimium age limit (minium age limit to be excepted in PCUW is 13, Jimmy's 10). On the debut episode, Jimmy defeated Willy Blake to become the first cruiserweight champion. Although the next week, he lost it to Alex Starr. Since then, he's been on a horrible losing streak. He often gets picked on by the older wrestlers due to him being weak and younger than everyone else. Jimmy is considered a tweener mainly because of every wrestler face or heel picking on him. He is in a tag team with Aries Austin called the Powerful Cruiserweights, but there have been rumors that they may split.
Jimmy's wrestling influences include John Cena, Santino Marella, CM Punk, Robbie E, and Austin Aries.
Ring Names/Nicknames
Fluffy (called that by the people that pick on him)
Finishers
Jim Splash (Five Star Frog Splash)
Tag Teams/Stables
Title Reigns
1 Time PCUW Cruiserweight Champion
Entrance Music
All the Small Things by Blink-182
Just A Little Faster by There For Tomorrow (Powerful Cruiserweights theme)