Jonny Ray Woods

The loner of Peach Creek, Jonny

Height:

5'5

Weight:

180 lbs

Age:

14

Born in:

Peach Creek

Lives in:

Peach Creek

Wrestling influences:

Chris Benoit

AJ Styles

Christopher Daniels

Evan Bourne

Kofi Kingston

The Motor City Machine Guns
Jonny
Jonny is the annoying kid in town; the loner. He has a huge, bald head, which is often the butt of many jokes and repeatedly gets caught in branches when climbing trees. He talks a lot, and frequently gets on the other kids' nerves. Jonny is rarely seen without his best friend, Plank, a piece of wood.

Jonny seems kind, innocent and gullible, and often forgives people no matter what they do. He does not seem to mind the antics of the Eds, as he befriends them and sometimes even enjoys them. Jonny also has quite an imagination. He is a free spirit and does whatever he wants to do.
Wrestling Career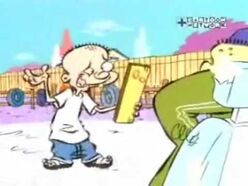 Jonny is one of the PCUW X Division originals, so is Edd. On the debut episode, he defeated Azure Lee to win the television title. He held the title for two weeks before losing it to Asheel Din. For the next few weeks, he would appear in many matches up until Halloween Havok when he faced Edd for the X Division title and won it. At Survival of the Fittest, he went against Aries Austin and successfully retained the belt. But at the rematch during End of Days, he wasn't so lucky. He was a competitor in the X Division Xscape match during New Year's War, but was the second person eliminated.
At Breaking Point, Jonny finally showed his feelings for Mandy Wells when he told her before her match that he believed in her. During the match, Jonny helped her get the win after he threw Plank down the ramp and Plank hit Wolf Lancaster on the head. On April Week 2, Jonny was on Mandy's side and told Wolf, "If you want to face her for the TV title, you're going to have to go through me!". However, Jonny was unsuccessful at beating Wolf that night. At Final Countdown after Mandy forfeited the TV title to Wolf, Jonny came out and knocked him out, challenging him a match for the TV championship at New Day. After that backstage, Jonny asked Mandy if she'd go out with him and she said yes.
On June Week 4, Jonny cost Wolf his match against Robert Black when he intervered. At New Day, Jonny defeated Wolf and became the new TV champ.
At Indepedence Day, with help from Slade and Eric Peterson, Jonny retained his title against Jason Krueger.
Unknown to the wrestlers and fans, Jonny has secret identities as Captain Melonhead and The Gourd. And he won't admit it, but Jonny has a crush on fellow PCUW Knockout Amanda Wells. After New Day, Jonny is now dating Mandy.
Jonny's wrestling influences include Chris Benoit, AJ Styles, Christopher Daniels, Evan Bourne, Kofi Kingston, and The Motor City Machine Guns.
Ring Names/Nicknames
Finishers
Head First (Diving Headbutt)
Title Reigns
2 Time PCUW Television Champion (Current)
1 Time PCUW X Division Champion
Entrance Music
You're Gonna Go Far Kid by The Offspring
Ad blocker interference detected!
Wikia is a free-to-use site that makes money from advertising. We have a modified experience for viewers using ad blockers

Wikia is not accessible if you've made further modifications. Remove the custom ad blocker rule(s) and the page will load as expected.