Kevin Nathaniel Lewis

Kevin getting ready for a fight.

Height:

5'7

Weight:

185 lbs

Age:

14

Born in:

Peach Creek

Lives in:

Peach Creek

Wrestling influences:

Mr. Kennedy/Anderson

The Dudley Boys/Team 3D

Rhino

The Miz

Jeff Jarrett

CM Punk

Edge

Randy Orton

Batista
Kevin is the local bully in Peach Creek aside from the Kankers. He is the athletic jock as well. Being cruel and mean most of the time, Kevin is mostly hated by the Eds and hates them back to the point of extreme paranoia. He hates Eddy the most because many of Eddy's scams have gotten him injured. He calls the Eds "dorks" all the time.
Wrestling CareerEdit
Kevin has been apart of the PCUW roster since the beginning. From the debut episode, he's been known as the most hated heel on the show. One month after the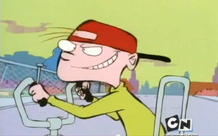 debut, he formed a stable called The Destiny Empire, with him as the leader. At Summerfest, he was one competitor in the company's first ever Ultimate X match, but lost. The week before September's Still Unbroken pay-per-view, Kevin defeated Edd to win the X Division title, only to lose it from him two weeks later from the help of GM Zack Watkins. After that night, Kevin wanted revenge on the GM and tried to injure him, but he and his team failed to accomplish the task. Since then, Zack and Kevin have had a hatred of each other to the point where Zack forced Kevin to wrestle two matches at Halloween Havok and Survival of the Fittest. At Halloween Havok, Kevin and his partner Rolf successfully defeated Van Culmer and Corey Dominic to win the PCUW Tag Team titles. Kevin has went against Ed for the World title many times, but has failed every time.
At Breaking Point, Kevin finally succeeded in winning the World championship after Asheel Din came out and hit Ed with a baseball bat. Throughout the month of April, Kevin has been trying to get the Eds to believe that Asheel really did betray them. However, there have been clues that it's not what the Eds think. At Road to Glory, Kevin defeated Azure Lee to retain his World title and at Final Countdown he did the same with David Williams. Along with that, he and Rolf have been defending their tag team titles as well.
Over the next four weeks, Kevin played mind games with Eddy, trying to make him believe his whole team was jealous of his title shot. This didn't distract Eddy, the Erupting Eds, EWO, or the members of the Age of the Fallen. Kevin then put Eddy through a series of matches in which he had to face his closest friends, Edd, David Williams, Christian Hardy, and Ed (in that exact order), with Eddy prevailing in every match. During Week 3, an extra stipulation was set: If Eddy wins, the Destiny Empire will be put under Extreme Supervision and Asheel will be free from Kevin's blackmailing and the Destiny Empire: If Kevin wins, PCUW's longest standing stable, the Erupting Eds, will disband for good. At New Day, Kevin and Rolf lost their tag team titles to former tag team champions Van Culmer and Corey Dominic and Kevin also lost his World Heavyweight Championship after Asheel knocked Kevin out with a bat after EWO, Ed, Edd, and the Age of the Fallen drove back the Destiny Empire when they attacked Eddy.
Kevin's wrestling influences include Mr. Kennedy/Anderson, The Dudley Boys/Team 3D, Rhino, The Miz, Jeff Jarrett, CM Punk, Edge, Randy Orton, and Batista.
Ring Names/NicknamesEdit
Kev
Shovel-Chin (by Eddy)
FinishersEdit
Bull Tackle (Spear)
Deadhead (RKO)
Tag Teams/StablesEdit
The Destiny Empire
Kevin and Rolf
Title ReignsEdit
1 Time PCUW World Heavyweight Champion
1 Time PCUW X Division Champion
1 Time PCUW World Tag Team Champion
Entrance MusicEdit
My World by Dale Oliver (Jeff Jarrett's Impact theme)
Immortal Theme by Dale Oliver (Immortal's theme; The Destiny Empire's theme)
Ad blocker interference detected!
Wikia is a free-to-use site that makes money from advertising. We have a modified experience for viewers using ad blockers

Wikia is not accessible if you've made further modifications. Remove the custom ad blocker rule(s) and the page will load as expected.