Lee Brittany Kanker

Lee, looking at the ship in a bottle.

Height:

5'7

Weight:

170 lbs

Age:

15

Born in:

Somewhere else besides Peach Creek

Lives in:

Peach Creek

Wrestling influences:

Beth Phoenix

Kharma

Natalya

ODB

Victoria/Tara
Lee
Lee is the oldest and leader of the three Kanker Sisters. However, although dominant by nature Lee doesn't always get it all her own way for as the regular free-for-alls to open the trailer door so nicely illustrate, May and Marie aren't exactly the "sit down and take it" passive types either. She is in love with Eddy, much to his suffering. Lee enjoys a fight, make no bones about it (unless of course we're talking broken bones) she may let her younger siblings do the dirty work but really she's as "up for it" as they are. However, the difference with Lee is that she doesn't let it carry her away - she takes part and she dishes the lumps but she also stays in control.
Wrestling Career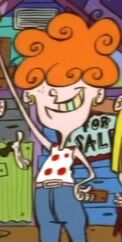 Like her sisters, Lee had some early success in PCUW. On the debut, she and Marie became the first PCUW Women's Tag Team champions and held the belts until two weeks before Halloween Havok when beaten by Rock n' Roll Country. At Survival of the Fittest, they had a rematch for the belts, but failed to regain them. Since then, she and her sisters haven't been in a lot of action, but are still in a rivalry with Rock n' Roll Country.
At Final Countdown, the Kankers were scheduled to face Ivory Gerdelman in her final match in her Best of 3 series challenge for being the #1 contender for the women's title at New Day. But before the match, Lee and Marie were attacked backstage.
Lee's wrestling influences include Beth Phoenix, Kharma, Natalya, ODB, and Victoria/Tara.
Family
Siblings: Marie Kanker (Sister), May Kanker (Sister)
Parents: Butch (Possible dad), Bubba (Possible step dad), Rod (Possible step dad), Mother
Finishers
Tag Teams/Stables
Title Reigns
1 Time PCUW Women's Tag Team Champion (with Marie)
Entrance Music
Glamazon by Jim Johnston (Beth Phoenix's theme)
Dirty Work by Halestorm (The Kanker Sisters Year 1 theme)
Loves Bites (So Do I) by Halestorm (The Kanker Sisters current theme)